See on Scoop.it – Ed Technovation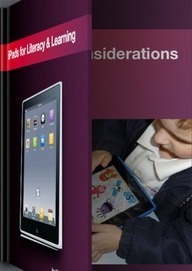 Nicole Sprainger has created an iBook "iPads for Literacy & Learning" which has been developed to assist K-10 teachers in utilising the iPad in their classroom literacy learning programs. It recognises that our students live in an increasingly sophisticated and media-rich society, in which digital texts are ubiquitous. Our students need therefore to become multiliterate – to be critical consumers of digital media texts. They also need to develop the ability to construct new knowledge, communicating their own ideas and information by composing using digital tools and processes.
Nicole says the iBook itself is intended simply to be a stimulus – a spark to encourage teachers to consider some ways to provide explicit learning opportunities for their students to access, use, understand and create multimodal texts while utilising the iPad.
See on learningwithipads.blogspot.fr