See on Scoop.it – Ed Technovation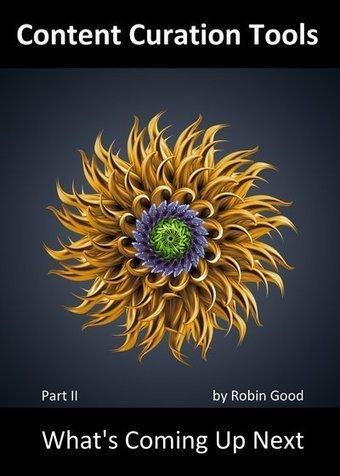 This article is the second part of the excellent guide written by Robin Good and published on MasterNewMedia in these recent days.
The Part I that I curated and excerpted a summary is here: http://sco.lt/9BOLdB
Here is an excerpt of second part:
"I (Robin Good) continue my humble exploration of what I have identified as possible areas for betterment, innovation and improvement of content curation tools, by identifying and describing some of those that appear most needed.
8) Preservation
One of the official digital curator key responsibilities lays specifically in archiving and preserving anything of value that is collected, just like a museum curator does.
For these reasons professional content curation tools will have to include among their features the ability to:
a) fully photograph,
b) archive and
c) create a searchable index of any such web content, page or information resource being curated.
9) Private Collections
The need to offer "private" collections / streams that can be accessed via subscription or sold as downloadable PDF (or in other formats) will also come of time soon.
10) Full Capture Abilities
The curator needs to equipped with qualified tools that can allow him to easily clip a short text excerpt from a page, a whole web page, an image or parts of a video.
Few content curation tools excel on this front, and none does a great job of creating screenshot-based web page collections that contain full page screenshots.
11) Monetization
All these platform have an opportunity to gradually discover and identify the most valuable curators in their community and to support them by either having relevant brands sponsoring specific verticals, via sponsored stories or via paid subscriptions.
12) Content Types Begging To Be Curated
Most of the curated content today are news, images and products.
Still, there are some areas that completely lack, or offer only one or two useful and easy-to-use curation tools.
Take for example audio curation. There's no dedicated curation tool that I know of that can help me curate podcasts, audio recordings and newscasts easily.
13) Beyond News & Articles
Until now we have been used to see the work of the content curator give life to streams of news stories via a Twitter or Facebook channel.
In the future it is very likely that beyond these popular uses, you will see the work of content curators specifically contribute to the creation of valuable collections in the form of actual: books, magazines, textbooks, video playlists – programmes, shopping directories and more others.
14) Specialized Curation Tools
I expect new curation tools to diversify themselves from the crowded competition by specializing in a specific area and for a specific group of users.
Each point is analyzed with more information and external links. Read full, interesting and detailed article here:
http://www.masternewmedia.org/content-curation-tools-future-part2/
See on www.masternewmedia.org