See on Scoop.it – iPad & Literacy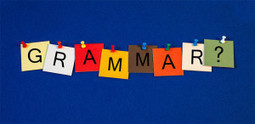 If you ask students what their favorite subject is, it's a rare kid who will say grammar. If you ask teachers the same question, it's also a rare teacher who will say that s/he enjoys teaching grammar more than any other subject.
Jim Harmon's insight:
Not sure how I feel yet about strict grammar apps, but I do know most of my students struggle with conventions and I'm willing to spend some instructional time finding out if there is an imapct.
See on www.avatargeneration.com